{Welcome to Day One of A Little 2 Sassy's blog tour}
As you know I just love to support handmade products and I know the true meaning of appreciation for a work at home mom. All that being said makes this post even more exciting to introduce Kristina to you, the owner of
A Little 2 Sassy
. Kristina is a wife and mother of three. Due to unfortunate events during her childhood she lost her mother and was raised by her grandparents. Kristina's grandmother was always working on crafts and of course she was right by her grandmother's side learning along the way. Now that Kristina has become a mother, her daughter is the inspiration behind her bow making. The creation of A Little 2 Sassy has given her a chance to put her wonderful skills to work. Each item that Kristina hand makes for her customers is filled with love and pride.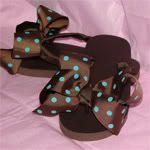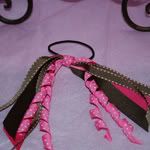 First I must point out that I just love the flip flops! How cute are those? And... she makes them in adult size as well. Oh yes I would wear matching flip flops with my Gabby girl in a heart beat!
Next shows the pony o's hair piece. Those are perfect for the little older girl who doesn't want hair bows in her hair any longer. I must admit that although I am able to sneak in a hair bow every so often, these are Gab's favorite.
The third photo shows one of my personal favorites. I just love the curly ribbon hair bows. Plus I just adore the button in the center. What a great finishing touch!
Now for the giveaway! I have been given the opportunity to giveaway a $25 gift certificate good towards any hair bows or flip flops you find at
A Little 2 Sassy
.
Rules:
Go to Kristina's store A Little 2 Sassy and find one item you just love and come back to leave in the comment section

Additional Entries worth one entry each:
1. Tweet this giveaway and leave link in separate comment
2. Blog this giveaway and leave permalink in separate comment
3. Sign Kristina's guest book and leave separate comment
Don't forget this is a blog tour that continues for four days. There will be three other bloggers writing about A Little 2 Sassy, spotlighting something different and offering a special for their readers. Each post will be different so come back here to find their post links on Mr. Linky below. The tour will span over the next four days and wonderful discounts will be available that you won't want to miss!
Mister Linky below is for the other three bloggers participating in the A Little 2 Sassy Blog Tour, so please check out their posts to read more and receive other discounts.
{Contest ends Friday, February 20th at midnight}