So the short and sweet trip to Las Vegas is over now. It was an extremely fast yet fun two day/two night trip. Since this wasn't my first trip we didn't do much sightseeing, therefore not many photos. However! I did manage to take a few pics of the things I was doing over the two days to share with my readers. Here is a recap!
Monday afternoon we arrived to Vegas after the dreadful smooth flight. I got to watch the Dallas Cowboys Monday night Football game at one of the casinos and watch all the fans hoot and holler. Half of the fans were there rooting on the other team. BTW did I mention at the end of the game a fight almost broke out? Crazy fans... LOL Here is a pic of the football game from my view: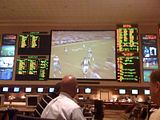 So after winning a little money on the game, I got to eat my favorite:
PF Changs
! YUM, doesn't my food look good? :)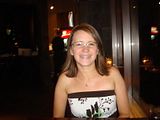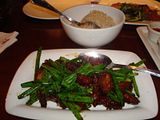 So on Tuesday I gambled a little. Some blackjack, some slots. Not much b/c I can't handle the thought of losing money. I played blackjack for a while and broke even, then played some games on the slots and won $200! YAY, Go Me! LOL
Here is a photo of the casino New York New York which is where I stayed.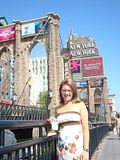 Once the day came to an end I got ready for the night. Night life in Vegas is
wild crazy
bright and alive! The restaurant was so good. Have you heard of
Emeril
? The famous chef on television? I was blessed to eat at one of his restaurants. It was yummy!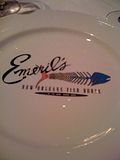 Then after the food was the show. Since this was my third trip to Vegas I have seen most of the shows. This time I got to see
David Copperfield
. I used to love watching his yearly magic show on TV when I was a kid. His act was pretty good in some parts but I have to admit it was predictable in others. I hate to sound like a bad critic. :(
Here is the last photo of me in the night lights of Las Vegas.
The trip was fun and now I am home. Back to work and motherhood!